Old jeans belt out not so old Kishore songs !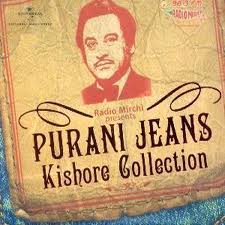 If you're a Kishore Kumar fan you might be disappointed as this 40 song collection (Purani Jeans : Kishore Collection) isn't Kishore da's best as Radio Mirchi claims .
The cover of this MP3 collection maybe creatively designed  . But the collection is far from being the best . In fact many of the songs have no claim to be in this collection .
This collection claims to put together Kishore Kumar's best songs of the 70s and 80 .
Remember Kishore Kumar was king of hindi cinema playback singing during this era . But I could pick only a dozen songs which deserve to be in this 40 song collection.
Notable among them are : Pal Pal Dik Ke Paas , Wada Karo, Pal Bhar Ke Liye , Kiska Rasta Dekhe , Chalte Chalte , Churi Nahin Yeh Mera Dil Hai , Hey Maine Kasam Li , Ye Jawani Hai Diwani .