NSE to offer fiscal tips to Himachal school kids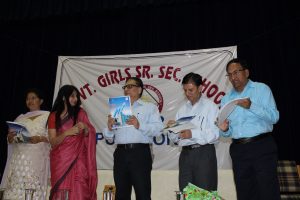 Shimla :India's leading stock exchange, the National Stock Exchange, has entered into a partnership with the Himachal Pradesh government to introduce a financial literacy course for high school students in the hill state.
These courses will help make them financially aware from a young age and understand concepts like savings and investments.
To kick-start this initiative, a two-day workshop and training programme for teachers and principals of schools was held in Shimla Friday .It was inaugurated by Ali Raza Rizvi, Principal Secretary (Education) Himachal government.
This workshop has been designed by NSE to help teachers effectively teach the financial literacy course to their students. A similar workshop will be held in Solan next week.
The financial literacy course has been developed for students in class IX and X. It will be introduced on a pilot basis in about 100 schools in Shimla and Solan districts in the current academic session.
It will be extended to 1000 schools in the next academic session.
As a part of this course, students will learn about income, expenses, importance of savings, banking, basics of financial planning, investing, money management and setting financial goals.
The objective of this initiative is to help students instil the habit of savings from a young age and to develop financial and investment capabilities.