Himachal gives 2 years grace period to 4 hydro-electric projects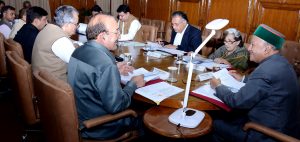 Shimla :Two years extra time has been given to build four medium size hydro-electric projects in Himachal Pradesh.
A spokesman of the state government said here Thursday that these four projects include Lara Sumta 104 MW, Sumte Kothang 130 MW, Chango Yangthang 180 MW and Yangthang Khab 261 MW.
The cabinet also gave extension to all hydro electric projects in the Hang Rang valley without charging extension fee.But the Dewar-I SHEP in Kullu district has been cancelled.
The cabinet also approved the recommendations of the select committee regarding enactment of the state Lokayukta act 2014.
Approval was accorded to promulgate an ordinance of Himachal Pradesh Town and Country Planning Act, 1977 (Amendment) Ordinance 2014.
Now industrial plots allotted by the Industries department of Himachal Pradesh State Industrial Development Corporation, (HPSIDC), the permission of section 118 of the HP Tenancy and land Reforms Act, 1972 may be deemed to have been granted subjected to few provisions.
Cabinet accorded approval to grant of license for setting up distilleries/breweries and bottling plants in the state and inviting applications from reputed parties.