Now no jobs for retired Himachal babus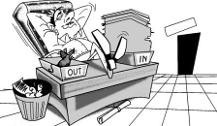 Shimla :Under pressure for selectively giving re-employment to retired government employees in Himachal Pradesh the ruling Virbhadra Singh led Congress government on Monday decided to put an end to this practice.
"The government has decided no re-employment will be provided to government employees after retirement at 58 years," the chief minister told the house here.
"All those who have been re-employed since last year their services will be terminated by March 31 this year," he said.
"Since last year 1616 retired state government government staffers have been re-employed.Rs 6,95,53,197(Rs 6.95 crore) has been spent on their salaries and perks," Virbhadra told the house.
Opposition members Rajeev Bindal and Mahender Singh blamed the government for incurring unnecessary expenses and burdening the state exchequer.
Bindal said the government had re-employed retired officials selectively calling it "pick and choose".
Mahender Singh said this had damaged the careers of many government staffers who had retired in the past few months as their seniors had been given extension after retirement.
"The state has 11 lakh(1.1 million) registered unemployed youth. If some of them had been provided jobs on contractual basis the expenditure would have been far less," Mahender Singh said.
Himachal Pradesh has one of the highest ratio of government employees in the country.It is the most powerful lobby in the hill state.