Monkey catchers make money in Himachal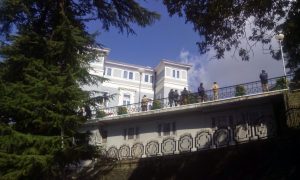 Shimla : Monkey catching is a new way of making money in monkey infested Himachal Pradesh,as wildlife officials claim to have sterilised a quarter of wild simians in the hill state.
"Since Oct 2011, 336 people have been engaged to catch them.The price for catching each monkey is Rs 500. Rs 3,22,25,399(Rs 3.2 crore) has been paid to them," the state forest minister Thakur Singh Bharmouri said in the state assembly here Friday.
"These monkeys are sterilised at seven centres across the state," the minister told the house.
"There are over 350,000 (3.5 lakh) monkeys in the state. So far 94,334 have been steralised," the minister said.
Chief Minister Virbhadra Singh told the house that despite steralising in recent years the number of simians was rising.To bring down numbers this needed to go on," he said.
After operating on these animals they are released back into their territories as they live in organised groups.
Monkey menace is a big problem across the hill state as due to shrinking habitat these animals destroy crops .
It is a sensitive political issue in the state. Currently the state high court has put a temporary ban on their killing as animal rights activists have moved the court.
Opposition members wanted to know what efforts were being made by the government to vacate the court stay on the ban on culling of these animals.
Monkey also attack people in towns including the state capital Shimla which is highly infested by them.
Legislators expressed concern over the rise of monkey bites.
"While culling is the best way to bring down numbers as no law prohibits their killing.But people don't kill them as they are seen as Hanuman," the chief minister said.
"The second best option is steralising them.The state is also taking up with the Centre to lift the ban on monkey export ," Virbhadra said.