Nod to build Arun power project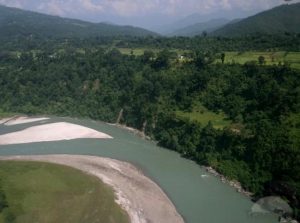 Shimla : The Union cabinet has approved the investment proposal for 900 MW Arun –III Hydro Electric Project in Nepal.
The project is located in Sankhuwasabha district of Nepal on the river Arun and is a run-of-the-river project.
R.N. Misra, SJVN chief informed that a 70 meter high gravity dam will be constructed from which water will be diverted into 11.74 km Head Race Tunnel (HRT).
The power house will have 4 Vertical Francis type generating units of 225 MW each amounting to 900 MW of electricity. The power station will generate 4018 Million Units of electricity.
Misra said the project will be executed through SJVN Arun III Power Development Company (SAPDC), which is a wholly owned subsidiary of SJVN.
The estimated cost of project is Rs 5723 crore to be built in fiver years.
SJVN bagged the project through International Competitive Bidding and Memorandum of Understanding (MOU) was signed with Nepal for the execution of 900 MW Arun – III HE Project on BOOT basis. The project will generate employment for around 3000 persons in the construction phase.
The Project Development Agreement (PDA) provides 21.9% free power to Nepal for the entire concession period of 25 years. The surplus power from the project shall be exported from Dhalkebar in Nepal to Muzaffarpur in India.
The project will provide surplus power to India strengthening power availability in the country and will also strengthen economic linkages with Nepal.