No place for monkey scaring machine in Shimla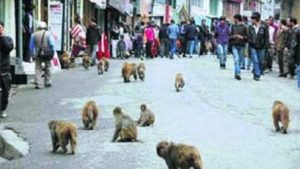 Shimla : The Shimla municipal corporation has criticised the Himachal wildlife chief for not taking any steps to keep away monkeys in the state capital Shimla.
"Our suggestion for installing a monkey scaring machine has been ignored by the wildlife wing.I am shocked at the dilly-dallying tactics of the wildlife officials," Shimla deputy mayor Tikender Panwar said here Friday.
The civic body had suggested installing a machine to scare away monkeys in an area of 1000 sq feet.
"The wildlife chief has told us there is no suitable place in town to install this machine.He has also made an obnoxious recommendation asking the civic authorities to find a suitable place," Panwar said.
"These evasive tactics are being adopted by the wildlife wing even as Shimla is in the grip of a monkey menace. Every month about 200 monkey bites are reported in the town," the deputy mayor said.