New Zealand to help Himachal produce more apples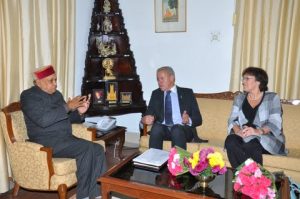 Shimla : New Zealand could soon lend a hand to Himachal Pradesh by helping it raise the production of apple in the hill state .
"Himachal has a vast potential to increase apple yield by planting high-yielding varieties and replacement of old root-stock where New Zealand could lend its support ," David Carter , minister of primary industries , New Zealand said here Monday .
"Similarly technology transfer in agriculture could be another sector where we could provide expertise as 90 per cent of the population lives in villages here ,"Carter said .
The New Zealand delegation met top state government officials including chief minister P.K.Dhumal .
Currently Himachal produces 4 to 9 MT per hectare apple as compared 25 MT per hectare yield in New Zealand .
The state is keen to import quality root-stock of apple from New Zealand for multiplication in laboratories in the state and distribute them to farmers .
Most of the apple varieties in Himachal are old American varieties most over 50 years old .
In the past the state has imported root-stock but the number has been so small that few farmers have benefited.
Along with neighbouring Jammu & Kashmir , Himachal Pradesh accounts for India's almost entire apple production .