Nepal will not allow anti India activities : Prachand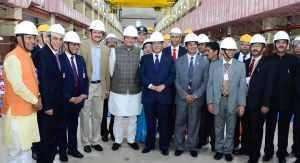 Shimla: Nepali prime minister Pushpa Kamal Dahal(Prachand) on Saturday said his country will not allow anti India activities from its soil.
"We will not allow activities against any neighbouring country from our soil," Dahal told reporters.
Asked about his just concluded talks with Indian prime minister Narendera Modi he said, "I am very happy and with warm and cordial talks with PM Modi as this will help in further strengthening relations between the two countries."
The Nepali premier along with Indian power minister Piyush Goyal visited India's largest hydel power project the 1500 MW Nathpa Jhakri project in the Himalayas in the state of Himachal Pradesh.
The Nepali premier flew into Himachal Pradesh in an Indian Air Force chopper from Chandigarh and was accompanied by a top delegation of about 25 people.
He took a look at the Nathpa Jhakri project built on the Sutlej river one of India's fastest flowing rivers and the largest tributary of the mighty Indus river.
"I am very satisfied with my visit to the Nathpa hydro electric project," the Nepali premier told reporters.
A large number of Nepalese nationals had gathered to see their leader. The PM briefly met some of them. There are thousands Nepalese working across Himachal Pradesh.
The Jhakri project is built by the state run Satlej Jal Vidyut Nigam(SJVN).This company is in talks with the Nepalse government to build the proposed 900 MW Arun hydel electric project in Nepal and will be Nepal's biggest such project.
The power project at Jhakri some 170 km from here is built underground.
Built at a cost of Rs 8187 crore in 2004 the Nathpa project was funded by the world bank. It feeds all the northern states.