Mughal-e-Azam : the Kohinoor of world cinema : Review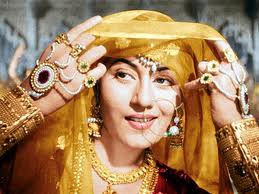 It was a film that was destined to be a classic the day it was conceived. It took ten long years to make and was released in 1960 , and ever since Mughal-e-Azam has captured our imagination.
Half a century later its actors have become legends and so has the rich music , the artistic royal sets and the grand dialogues.
In fact the epic film is all poetry . All characters speak as if they were poets . And in chaste urdu the queen of all languages .
The story revolves around emperor Akbar , one of the greatest kings the world has ever seen . Played to perfection in the most grand and inimitable style by Prithviraj Kapoor .
Then there is India's greatest actor ever Dilip Kumar who plays the intense , rebellious and passionate prince Salim with his usual flair and understated manner .
And then there is the ever beautiful Anarkali played by Madhubala perhaps the most beautiful woman to grace Indian cinema during the golden era .
Anarkali the court dancer dances her way into the heart of a war weary prince much to the anger of the emperor .
Durga Khote is queen Jodhabai . Murad as Raja Man Singh , Ajit as the brave and loyal rajput friend of prince Salim .
And then there is Nigar Sultana the least known of these actors . And yet her performance shines like a bright star !
This sultry , husky voiced court dancer delivers dialogues in some of the finest urdu you will ever hear on screen .
Involved in court intrigues , hiding behind silken curtains and singing lines like , "Kissi din yeh tamasha muskura kar hum bhi dekhenge ."
But if there wasn't  K Asif  there wouldn't have been this kohinoor of world cinema— Mughal-e-Azam .
If there was an ultimate dreamer , a dreamer who was possessed with one desire all his life ,  to make this film . A film of such epic scale , grandeur and splendour .  It was K Asif.
He made no compromises ,  he was a perfectionist to the core .The costumes , the dialogues and the elaborate sets were so real and so convincing of the royal Mughal era .
It is said in the 1950s an entire film could be easily made at the cost of a single set for a scene in Mughal-e-Azam .
I am surprised Asif hasn't been given the top honour of Indian cinema the Dadasaheb Phalke award !
The flawless story and dialogues were written by five men including K Asif , Kamal Amrohi and Wajahat Mirza .
Music director Naushad and lyricist Shakeel Badayuni together created some of the greatest songs of hindi cinema . They are naturally heavily inspired by Indian classical and folk music .
We even have a glimpse of the legendary Mia Tansen singing his mesmerising raagas(in the voice of Ustad Bade Ghulam Ali Khan) while Salim and Anarkali are in each others arms .
Amazingly Lata Mangeshkar sang nine of the twelve songs. Mohammad Rafi , Shamshad Begum and Ustad Bade Ghulam Ali Khan sang the rest .
Mughal-e-Azam took almost ten years to make and was first released in 1960 . In 2004 it was re-released in full colour and the much changed world was able to appreciate the film again world wide .
This is one of those rare classics which will live on forever!