Modi launches cheap flights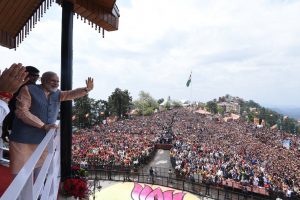 Shimla: Prime Minister Narendra Modi on Thursday flagged off the first UDAN flight under Regional Connectivity Scheme, on the Shimla-Delhi sector.
UDAN makes cheap air travel accessible to a wider range of citizens and enhances connectivity with airports across India.
The inaugural UDAN flights on Kadapa–Hyderabad and Nanded-Hyderabad sectors were also flagged off.
"With the launch of this cheap Shimla-Delhi flight tourism will get a further boost in Shimla," he said.
"Airfare has been capped at Rs 2500 for a one hour journey and a distance of approximately 500 km. The target is to cover 70 airports across India soon. This includes 30 airports in the next one year," he said.
This is claimed to be the first of its kind scheme to stimulate regional connectivity through a market-based mechanism.
Modi also laid the foundation stone(online) of a specialised hydro power engineering college at Himachal Pradesh's Bilaspur town.
"Himachal Pradesh and other Himalayan states of the country have a huge potential for hydro-power generation this specialised college will train engineers in is field," Modi said.