Mixed response to Bharat bandh call in Himachal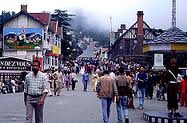 Shimla : In response to the opposition's 'bandh' call against FDI in retail and hike in diesel prices traders in many parts of Himachal Pradesh shut down their commercial establishments early Thursday .
But traders in some parts conducted business as usual and the 'bandh' call had little impact in some parts of this BJP ruled state.
In the state capital Shimla stores , shops and restaurants began opening by noon even though the call was to remain shut for the entire day sources told Sun Post
In Kangra the state's most populous district the call was ignored at some places .
But the shutdown was complete the industrial district of Solan and also in adjoining Sirmaur district . In Hamirpur the home district of chief minister P.K.Dhumal the shutdown was complete .
Traffic moved normally in the entire state except for an hour in the morning when the Left led leaders blocked traffic at many places .
State roadways  and private buses along with trains plied normally across the state . Banks were open .
But many truckers on main highways kept off the road but continued to drive in the interiors , particularly in the state's apple belt where the harvest is on .