Razia Sultan : Kamal Amrohi's last epic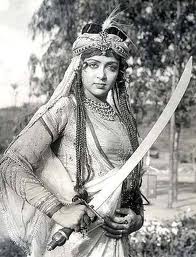 Kamal Amrohi was a purist filmmaker , and above all he was a purist of the grand Urdu language , and Razia Sultan(1983) is a perfect example of his craft of filmmaking .
This is an epic of a film well over three hours long set during the Delhi Sultanate days . It is the story of the life of the remarkable Razia Sultan (1205-1240) the only woman ruler (Sultana) of her dynasty .
Razia's (Hema Malini) longing for the Abyssinian slave Jamal-ud-Din Yakut (played by Dharmendra).
This tragic love story deals with racism in medieval India , a love stricken princess who falls for a handsome and heroic black slave from Africa .
Razia a fighter of many battles challenges the Turkish royalty which is opposed to her love for Yakut . Parveen Babi and Vajayendra Ghatge also star in the film .
Kamal Amrohi the perfectionist engaged the best team for this film . He himself wrote the story and dialogues . Camera is by V.K.Murti. The music by Khayyam is haunting and the songs are equally haunting .
There are very rare classic songs of the 1980s hindi cinema . These songs in chaste urdu written by Jan Nisar Aktar and Nida Fazli will live forever .
Who can forget , Khwab Bankar Koi Aayega, Jalta Hai Badan, Tera Hijr Mera Naseeb Hai , Aayee Zanjeer Ki Jhankar , Aye Khuda Shukr Tera and Aye Dil-E-Nadan .
I wasn't surprised that such a perfect film did not succeed at the box office .