Dil Ek Mandir , the intense love triangle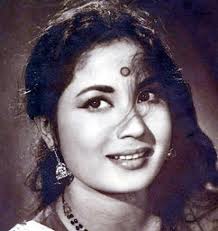 Perhaps the only light moment in this rather heavy and serious film is Meena Kumari and Rajendra Kumar singing in happier times , "Yahan koi nahin tere mere siva , tum sab ko chor kar aa jao , aa jao".
You might be surprised to see Meena Kumari actually run on screen as Rajendra Kumar woos and pursues her singing in this flashback scene .
Lyrics are by Hasrat Jaipuri and Shailendra and music by Shankar Jaikishan . Dil Ek Mandir was made in 1963 and was a big hit and the songs were smash hits , always high-pitched so typical of Shankar Jaikishan .
The other notable songs are Dil ek mandir hai , Ham tere pyra mein , O meri ladli , Ruk ja raat and Yaad na jaye beete dinon ki .
Directed by C V Sridhar , all the three leading actors Meena Kumari , Rajendra Kumar and Raj Kumar played highly intense roles with flair .
Almost the entire film is set in a hospital , quite unusual and daring in those days .