Lavi fair ends on a dull note in poll weary Himachal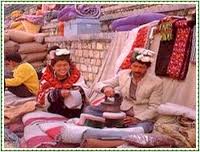 Shimla : Himachal Pradesh's biggest trade fair the centuries old annual Lavi fair ended Wednesday on an insipid note , thanks to the relentless inflation , crop failures and a recently concluded prolonged hectic election campaign in the hill state .
The fair takes place at Rampur Bushahr on the banks of the Sutlej river 130 km from here is normally formally opened by the state chief minister but this year it enjoyed no such high-profile opening and publicity due to the model code of conduct in force .
Located in the apple belt of the state . But due to two poor apple crops in a row fewer farmers from Shimla, Kullu and Kinnaur districts arrived to shop at Lavi .
Known for its dry fruits , handicrafts , woollen pahari products and other goods . Organisers of the fair say there were fewer buyers this time .
The fair is preceded by horse trading including the rare local Chamurti breed in early November and this too attracted few buyers this time .
Even though the state government has given it the status of an international trade fair , the fair has been losing its importance in recent years .
Prior to independence of India the fair attracted far more enthusiastic locals . Buyers even came in from Ladakh and even Tibet to shop at this exotic fair .