Dilip Kumar as Devdas is an immortal performance !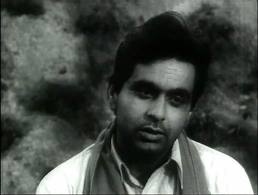 I think after the making of Devdas in 1955 even if the young and the very talented Dilip Kumar had stopped acting in films his place in the history of hindi cinema was assured forever .
So powerful and intense was his performance and yet so controlled and understated . This in the days when actors often acted as if they were doing theatre on the big screen .
This is easily Bimal Roy's best film . There have been many versions of Sharat Chandra Chattophadhay's  famous Bengali novel but this is miles and miles ahead of the rest .
Suchitra Sen looks angel like in the lead role, but it is Vijyanthimala who steals the show with a sterling performance as Chandramukhi .
Don't forget a cameo by Moti Lal as Chunni Babu for which he won the Fimfare best supporting actor award.
The tragic end of the film will remain one of the most dramatic scenes of hindi cinema .
Music is by S D Burman , lyrics by Sahir Ludhyanvi . Chandramukhi singing to a dead drunk and doomed Devdas , Jise Tu Kabul Kar Le Vo Sadaa Kahan Se Laaun(Lata) .
A lonely and melancholic Devdas sings Kisako Khabar Thi Kisako Yaqin Thaa (Talat Mahmood) .
When Devdas sets eyes on Chandramukhi for the first time she is singing Diladaar Ke Qadamon Men , Ab Aage Teri Marzi (Lata) .
Then the haunting Rafi song , Manzin Ki Chaah Main . Lata sings O Aanewaale Ruk Jaa Koi Dam .
Who can forget the melodoius folk song by two wandering minstrels (Geeta Dutt and Manna Dey ) Aan Milo Aan Milo Shyaam Saanvare sung to a child Parvati .
The two minstrels again sing to a grown up Parvati Sajan Ki Ho Gayi Gori . And when Chandramukhi and Devdas meet for the last time the moving background ghazal , Woh Naa Aayenge Palat Kar (Mubarak Begum) .