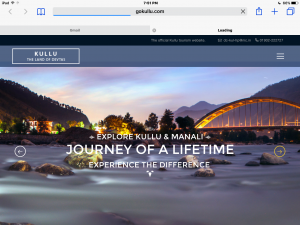 Shimla: The Himachal Pradesh government on Wednesday launched a website www.GoKullu.com, (Karizmatic Kullu),to provide online access to over 35 lakh tourists visiting Kullu and Manali every year.
An official spokesman said this website not only provides authentic information about Kullu district but also has a provision of guiding tourists by geo tracking system.
The website will also help in providing real time weather report, exhaustive catalogue of must see places, registered tourists guides, hotels, travel agencies, temples and home stays.
This will have a unique system of geo-tracking that will track and monitor the footsteps of trekkers in case of any emergency, the official claimed.
It will bring cultural awareness about Kullu valley and set the new social standards through sustainable tourism.