Himachal to show off Chamba Rumal on Republic Day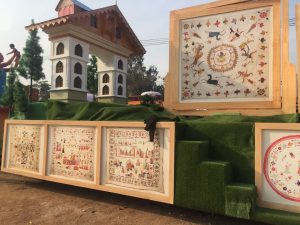 Shimla : After a gap of three years Himachal Pradesh's tableau returns to the Republic Day function in New Delhi.
This time the tableau presents a well known traditional art form -the Chamba Rumal(handkerchief).
In front of the tableau, a beautiful statue of a lady doing embroidery work on the rumal is depicted.
The middle section of the tableau shows Raasleela – a dance performance of Radha and Krishna with the Gopis.
The local women are seen engaged in traditional embroidery work. The big millennium gate of Chamba town adorns the rear portion of the tableau.
Chamba Rumal is the finest specimen of Pahari Art form.It flourished in Chamba town in the 18 th century.
Hand woven satin cloth is embroidered with untwisted silken thread in double stitch that appears same on both sides known as " Dorukha ".
This wonderful art embroidery is a popular gift during marriages or celebrations with detailed patterns in bright and pleasing colour schemes.
The most common themes inspired by Pahari Miniature Paintings on them are Krishna's Raasleela, Chaupad, Shikaar and Mahabharata.
The Chamba Rumal is registered for protection under Intellectual Property Rights Agreements in 2007.