Kullu Natti to enter Guiness Book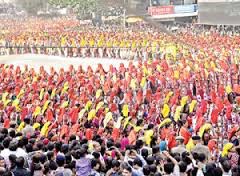 More than 13,000 Kullu Natti dancers men and women are getting ready for a mass dance in Kullu's Dhalpur ground on Oct 26 and enter the Guiness Book of World Records.
"More than 13,000 men and women dancers have registered to take part in the mass Kullu Natti . They will be dressed in traditional attire, to make this a world record and showcase the rich cultural heritage of Kullu," Rakesh Kanwar, D C Kullu said.
The norms required every single participant to carry andwear a bar-coded ticket that would be read by computerised software to ensure accurate registration of each and every participant.
More than 20 cameras, including drone cameras, will take aerial shots of the dance event.
More than 60 buses will run on 120 routes to ship in the dance.
Last year, 8,540 folk dancers performed Natti in Kullu at the Kullu Dussehra festival.