Kishore Kumar sings with SD & RD Burman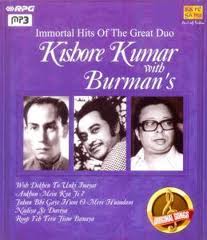 It begins with a tribute to S D Burman with his last song , that haunting number from Mili , Badi Sooni Sooni Hai Zindagi.
Soon after recording this song in Oct 1975 S D Burman went into a coma and died a couple of days later leaving behind some of the greatest hindi film songs .
This 40 song collection contains some of those great melodies and also those of his gifted son RD Burman .
Apart from the first Mili song SD's other choicest numbers are , Khilte Hain Gul Yahan ,Dukhi Man Mere , De Bhi Chuke Hum Dil Nazrana, Hum Hain Rahi Pyar Ke , Mana Janab Ne Pukara Nahin .
Ankhon Main Kya Ji , Ek Ladki Bheegi Bhagi Si ,Gaata Rahe Mera Dil , Likha Hai Teri Ankhn Main , Yeh Dil Na Hota Bechara , Meri Sapnon Ki Rani , O Meri Sharmilee , Duniya O Duniya Tera Jawab Nahin . Kora Kagaz Tha Yeh Man Mera . Aaye Tum Yaad Mujhe .
The RD pick is Kehna Hai Kehan Hai , Yeh Sham Mastani , Bhali Bhali Si Ek Surat , Yeh Kya Hua , Nadiya Se Dariya , Diwana Leke Aaya Hai  and Bye Bye Miss Good Night .
And lastly I have a question for the compiler Najma Merchant and the music company Saregama .The title of this MP3 is Kishore Kumar with Burman's . They need to delete the apostrophe , it should simply be Burmans  !