Kashmir deluge to spill over tourist rush into Himachal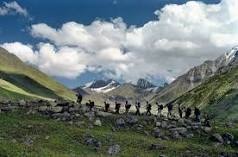 Shimla :Devastating floods in Kashmir is likely attract heavy tourist rush in the upcoming festival season in autumn which has begun to set in the hills of Himachal Pradesh.
People in the tourism industry in Himachal Pradesh say the rush of holiday makers during the next few weeks could be huge in popular hill stations .
These include Shimla,Kullu, Manali,Dharamsala, Dalhousie,Kufri, Chail and Kasauli .
"There is a sharp rise in the number of bookings and queries over the past few days in the Himachal Pradesh Tourism Development Corporation(HPTDC) hotels in the state," says Yogesh Behl, GM, HPTDC.
The state run HPTDC has around 60 hotels across the hill state. Many are housed in heritage buildings.
"There could be rise of about a third in the number of tourist arrivals in the upcoming festival season in October as compared to previous years," Behl said.
Foreign tourists also prefer to come in large numbers for the colourful ten day Kullu Dussehra festival.
Adventure seeking foreigners in this season visit the scenic Lahaul & Spiti and Kinnaur regions.
And many travel on the high-altitude 475 km long Manali-Leh road before the first snows cut off the high mountain region for half the year.