Journalist beats unruly Shimla cops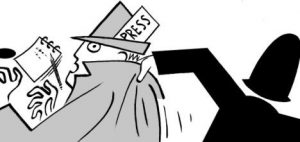 There is much talk in town about a journalist who beat up a couple of drunk policemen in the Chotta Shimla police station a couple of days ago.
Sources say the tv journalist was in some distress and went to the police station to lodge a complaint after midnight.The Chotta Shimla police station is located a few metres from the state secretariat.
But instead of writing his complaint and helping him the policemen on duty misbehaved with him.The journalist has also alleged that the two constables were drunk.
It isn't clear about the exact sequence of events that followed. But newspapers reported a day later that two policemen were beaten near the secretariat by a man passing by after an argument.
But it is now emerging that they had misbehaved with him which provoked the scribe. The incident took place after midnight.
There are a lot of giggles and chuckles about this lone man setting right unruly cops in the police station.While others are saying he may have gone too far.Some are even calling this incident very filmy indeed!
The journalist has been arrested and an investigation is going on.