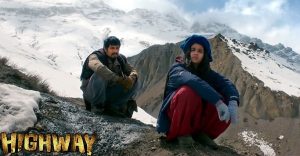 Spectacular photography in real locations across six states. From the deserts of Rajasthan across crowded Delhi, the Punjab and then Himachal's Kinnaur, Spiti, Chamba and finally Kashmir. Imtiaz Ali's Highway captures all this terrain with flair and style.
Bombay filmmakers have mostly been Kashmir, Manali and Shimla obsessed.
But Imtiaz Ali treads on the lesser known path to Kinnaur and Spiti. A tribal valley with raw and awe inspiring beauty.
Highway has an intense and sterling performance by Randeep Hooda as Mahabir the kidnapper.
Then there is Aliya Bhatt as the kidnapped girl Veera.An awkward girl with an abused childhood.She develops sympathy and love for her kidnapper as they move on the highway in a mini truck.
Her performance stands out in parts but is also often jarring and overdone.
The folk songs are very earthy. Highway was released worldwide and screened at the Berlin Film Festival.
It sure has something to catch the eye of an international audience.