Jaitley slams Congress for putting on hold LPG hike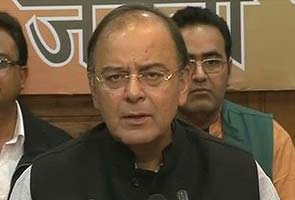 Shimla : The BJP has criticised the UPA government for putting on putting on hold the decision to raise the prices of non subsidised LPG cylinders ahead of the polls in Himachal Pradesh .
"Besides being unfair and anti-people it added to the misery of the common man and particularly women. Only at midnight they realised it was a politically costly move ," Leader of the opposition in the Rajya Sabha Arun Jaitley told reporters here Friday .
"And even then they did not roll back , I think this will last for 72 hours . After Himachal votes the holding out operation will end ," he said .
"Now the people of Himachal should decide to give them a crushing defeat , that might stem such eagerness to bring anti-people moves ," said Jaitley .
Asked to comment on the VBS files , he said the issues that he had raised have not been answered by Himachal Congress chief Virbhadra Singh .
"How come he benefits on policies with money from someone else's account , it is for him to answer and not the IT department ," he said .
Talking about Janata party Subramanium Swamy's latest charges against the Gandhi family he said the Congress needs to come forward and explain to the people of the country .
"The country expects a specific reply from the Congress on the allegation that the AICC gave the Gandhi's a loan of Rs 90 crore ," he said.
"If it is true that money was accumulated in the name of a political party and both donor and party got exempted and then the money was transferred to a political party then the provisions of the peoples representation act has been violated ," he said .