Himachal campaigning must end on Nov 2 evening : EC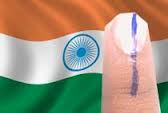 Shimla : The election commission on Thursday said all campaigning must end in poll bound Himachal Pradesh by Nov 2 , 5 P.M. 48 hours before voting takes place on Nov 4.
"Political functionaries , party workers , campaign functionaries who have been brought from outside the constituency and who are not voters of that seat should not be present in the constituency area ," said Narinder Chauhan , chief electoral officer .
"Office bearers of political parties and contesting candidates will have to declare the place of stay of political functionaries in the state headquarters and his movement during the period ," the CEO said .