Jaitley should worry about Gadkari not me : Virbhadra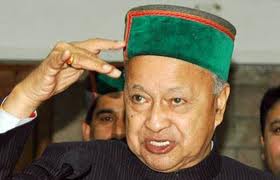 Shimla : An aggressive Virbhadra Singh Wednesday here dismissed the BJP's charge that he had indulged in income tax evasion , money laundering and forgery .
"My entire income is from horticulture . I was suffering losses for the past few years until I entered into an agreement with a professional party to run my orchards on contract and this resulted in higher returns ," said the veteran Congress leader .
"I have submitted the entire income details including transactions , vouchers as returns, let the income tax department contact me , how is all this the concern of BJP leader Arun Jaitley , " he said .
"Jaitley is behaving like a research scholar and an investigating officer , judge . He should worry about his national president Nitin Gadkari rather than poor me ," Virbhadra said .
Talking about the ISPAT company's VBS scam files seized by the income tax department during his tenure as steel minister he said this charge was entirely false and fabricated.
"I have already demanded a CBI inquiry into the matter and welcome the probe . I am as eager to know about the truth as others ," he said .
"The BJP is on the back foot and upset , instead of raising poll issues so its leaders are resorting to personal attacks and character assassination ," he said .
"Defeat is on the cards for the BJP in the upcoming elections in Himachal and in frustration it is resorting to mud-slinging and character assassination ," he alleged .
He singled out chief minister Dhumal saying he was hiding behind Jaitley .
Virbhadra is spearheading the Congress' poll battle against arch rival BJP . Himachal goes to the polls on Nov 4 . The result will be declared on Dec 20 along with Gujarat.