Is it Virbhadra vs Anand Sharma in Himachal !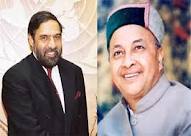 Shimla :  The presence of two Congress union ministers for the Shimla civic polls campaign has brought out the rivalry between the two leaders .
Anand Sharma the successful union commerce minister is a Shimla boy but is also seen as a settler and outsider with no mass following in the state .
But he did make noises a day before about being born and brought up in Shimla , maybe betraying his ambitions and his interests in hill state in the near future .
On the other hand Virbhadra Singh who has made no mark as a union MSME minister (earlier was Steel minister) in UPA -2  as his heart is longing for the hills of Himachal .
Even though Singh a five time chief minister is seen as a mass leader he is clearly threatened by Anand Sharma's performance in the UPA 2 and his proximity to the high command .
Singh on the other hand is not seen as a flatterer of Sonia Gandhi, and a bit of a rebel even though he claims to be a faithful party soldier who has stuck around for fifty years in the party .
Deep down even he senses the high command cannot ignore him as he has a huge following in the state .
But for the moment Singh is fighting for the leadership against Himachal congress chief Kaul Singh and leader of the opposition in the assembly Vidya Stokes and now Anand Sharma the powerful central minister .
Sharma's presence in the civic polls has somewhat rattled him .
When asked about the presence of two UPA ministers on the civic polls campaign trail in the winding streets of Shimla Singh merely smirked .
The mere mention of Sharma's name in the press conference Thursday sparked off this comment from Virbhadra.
"He is a big minister(Anand Sharma) while I am a low ground level leader . But please remember I am also the seventh most senior minister in the Manmohan Singh cabinet ," he said .
"But yet I don't mind campaigning for the party at any level even at the ward level in the Shimla civic polls ," he said .
Making it amply clear to the Congress high command that he is fit to shepherd the party in the forthcoming assembly polls later this year .