Anand Sharma lashes out at Dhumal on Jaypee scandal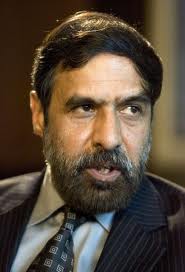 Shimla : Chief minister P.K.Dhumal got a fresh beating on his knuckles by union commerce minister Anand Sharma Wednesday who accused him of not acting against the Jaypee group of industries and allowing the firm to violate the law.
The minister was reacting to the recent landmark judgment of the Himachal high court which fined the Jaypee group for violating the law in setting up a cement plant at Bagheri in Solan district
The court verdict also ordered the group to dismantle the 60 MW thermal plant in Solan district .
"Irrespective of small or large corporate who have violated the law and been held accountable by the high court . In such a situation the state government has a lot to explain to the public ," Sharma said .
"The Dhumal government has clearly failed to take action against Jaypee and I suspect it is in collusion , connivance with the group and has overlooked the misdeeds of the company ," Sharma alleged .
He dismissed the charge of the state government that the UPA government was discriminating against the BJP ruled state government.
"On the other hand the Centre has approved a spice park at Nadaun in Dhumal's home district , but unfortunately the state government is creating long delays in executing the project ," he said .
Sharma arrived here Wednesday to his hometown Shimla to canvass for the civic polls on May 27.
"The Dhumal government must answer why a huge sum of money alloted by the Centre under JNNURM for the beautification of Shimla was diverted and under spent ," said Sharma .
He further accused the state government of failing to run the public distribution system (PDS) in a proper manner .
"Why has the public distribution system failed in the state. Unlike the state government we (the Centre) do not control the PDS and markets . So it is the state government which must explain why prices of commodities have risen in the state ," said the commerce minister .
Earlier in the day Sharma addressed a round table meet organised by the CII saying tourism , electronics and agro processing saying offered huge opportunities in Himachal Pradesh .
He briefed the industry leaders about new national investment and manufacturing policy and the proposed 12 national investment and manufacturing zones of 5000 hectares (each cluster).