Indian army the best : Modi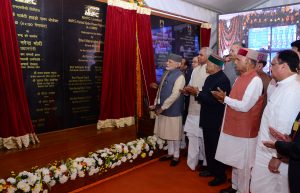 Shimla: Post the surgical strikes against Pakistan, Prime Minister Narendra Modi on Tuesday once again lauded the army saying the Indian army was one of the best in the world.
"One heard of the Israeli army protecting itself but with our recent efforts we can say our soldiers are no less than anyone in the world," Modi said at a public rally in Himachal Pradesh's Mandi town 163 km from Shimla.
As Himachal Pradesh has one of the highest ratios of soldiers in the country Modi said, "Almost every family in this hill state has produced a soldier. Along with you I salute all the soldiers of this country a hundred times."
"The one rank one pension policy was pending for forty years.My government has implemented this and already released the first instalment," he told a huge gathering which included many retired soldiers.
Prime Minister Modi also inaugurated three major hydro power projects before the rally.The 800 MW Kol dam, 520 MW Parvati project(Phase-3) and 412 MW Rampur project.
Four of the five major tributaries of the mighty Indus flow through the hill state.The state has nearly a quarter of India's hydro-power potential.
Talking about his government's efforts to revive old projects Modi took a dig at the previous Indian governments,"The Rampur project was to be built with the help of the Russians in an agreement in 1962. But is being inaugurated today."
"I have had to dig several files and revive similar projects which were conceived decades ago" he said.
People in large numbers had gathered for to listen to Modi. Tribal Kinnauras and Lahaul, Spitans stood out in their colourful attire.Many were seen dancing and singing in the crowds.
As party incharge of the right wing BJP Modi has travelled the state extensively in the 1990s.This is his first visit to the state as prime minister.