Illegal river mining galore in Himachal border areas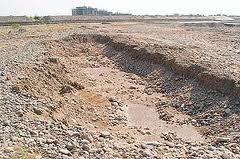 Shimla : Himachal Pradesh has seen an alarming rise in illegal mining of sand and boulders from river beds , particularly in areas bordering neighbouring states where such mining is banned .
The state's industries minister Mukesh Agnihotri told the state assembly here Friday that in the last three years there have been 11,647 cases of illegal mining in Himachal.
Of these at least 7738 vehicles have been compounded by the police and Rs 36,725,518 compounding fee charged .
Also 3038 cases of illegal mining were filed in the courts and in 1204 cases have helped collect a penalty fee of Rs 19,05,000 .
The industries minister told the house that due to a mining ban in neighbouring states there is a pressure of trucks entering Himachal .Often on a daily basis up to 50 trucks are impounded by flying squads.
There were often incidents of JCB's entering the river beds to carry out the mining . The current penalty on impounding a JCB vehicle is up to Rs 25,000 .
Agnihotri said that the mining mafia was so powerful that the law needed to be made stricter to fight this menace .