Illegal felling of green trees in Himachal's Rohru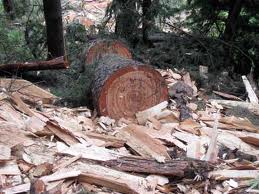 Shimla : A special squad of Himachal Pradesh's forest department has rushed to a remote spot in Shimla district's Rohru area where dozens of deodar , kail and rai pine trees have been cut down illegally by villagers .
Sources said the flying squad led by Dev Prakash Pathania reached the Jaghnoti forest beat  which falls in the Rohru forest division near the village of Khashdhar some 140 km from here .
As the area remains cut off in winter for long periods due to heavy snowfall . Officials suspect the illegal felling took place in late winter or early spring to avoid detection .
Only when word spread in the area about the mass felling did the local forest officials report the matter to the Rohru office and lodged an FIR as well .
Others say some aware locals reported the matter to the forest department's head office in Shimla after which the flying squad was rushed to the spot .
Preliminary investigations by the team says the actual number of trees chopped down could be much higher than the reported 43 trees .
The market value of these felled trees is estimated in several crores .