Tibetan monks missing in Tibet since January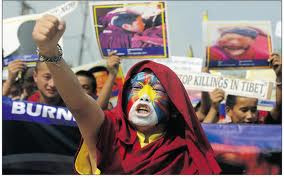 Dharamsala : Four Tibetan monks arrested by Chinese police in January from a monastery in Tibet are still missing , an official of the Tibetan government in exile said here Tuesday .
The four Tsewang Namgyal , Lobsang Tenzin , Dalha and Thinley were held by Chinese police for proesting against the Chinese government on January 23 at the Dragko Gochen monastery .
The official here said , "Tulku Lobsang was a highly revererd monk . There is no evidence of these monks being tried and till date they are missing ."
In recent times there have been a spate of self-immolations by Tibetans including monks against Chinese rule .