Huge haul of liquor seized in Himachal village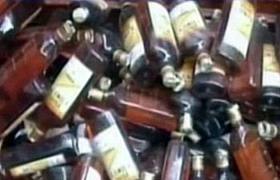 Shimla : In a major breakthrough police in poll bound Himachal Pradesh has taken possession of 2592 bottles in a village in Kotkhai area of Shimla district , police said Saturday .
The seizure took place from a house in Chamain village some 70 km from here . It includes 1728 bottles and 72 pints of country liquor(total 2592 bottles) .
Police on Friday seized Rs 1.1 million(Rs 11 lakh) from a vehicle in Shoghi 15 km from Shimla .
So far around Rs 13 million unaccounted currency has been seized by police in various places of the hill state since the election campaign began this month .
The state goes to the polls on Nov 4 .