Himachal's Rohtang pass opens for traffic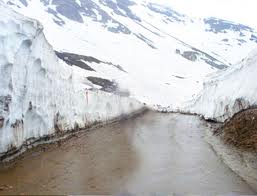 Shimla : After remaining closed for around six months due to heavy snowfall the majestic 13,050 feet high Rohtang Pass has been thrown open to vehicular traffic , officials said Friday .
Hundreds of vehicles arrived on the snow covered pass , many drove across the pass into the Lahaul valley . State roadways buses also passed into Lahaul from Kullu .
There was some rain towards evening over the pass which brought in the chill and made the snow soggy here .
With no temporary toilet facilities set up by authorities on the pass tourists were seen relieving themselves in the open a visitor told Sun Post .
The Rohtang pass is one of the major attractions for holiday makers in the scenic Kullu valley  and is located some 55 km from the resort town of Manali .