Whistleblower targets Himachal IAS officer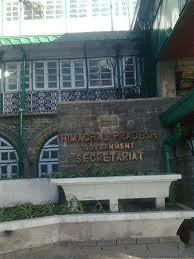 Shimla : Noted RTI activist Dev Ashish Bhattacharya on Thursday lambasted the P.K.Dhumal led Himachal Pradesh government saying it is breaking all service rules by carrying out faulty postings and transfers of IAS officers .
In a letter written to the state chief secretary S Roy , and distributed to media persons Bhattacharya has pointed out the glaring manner in which Arun Kumar Sharma is being promoted at the cost of other IAS officers in the state .
He says Sharma is being promoted because he has been Dhumal's private secretary and close confidant for nine years including five years in the previous term of Dhumal .
"I am surprised at the way the Himachal government is effecting the transfers of IAS officers by throwing the rules of good governance in the air and creating a situation of confusion and dissatisfaction in the bureaucracy ."
"The recent posting of deputy commissioner Shimla is a
glaring example of this phenomena of talibanising of the administrative procedures of the state ," Bhattacharya said .
"Nowhere in the country a DC or DM is allowed to hold the additional charge like Arun Kumar Sharma as DC Shimla with additional charge of director tourism as well ," he said .
"It seems no other officer in the Himachal cadre is capable of holding the post of director tourism other than Sharma ," Bhattacharya said in his letter to the chief secretary .
He said Manish Garg a much senior IAS officer wasn't even allowed to finish a month as DC Shimla and has been shifted out to accommodate Sharma .
He has also pointed out several glaring examples of postings by the Dhumal government including the most bizarre when Manisha Nanda a senior IAS officer seen close to the BJP was posted HPTDC , MD , and also allowed to hold the additional charge of director and secretary tourism .