Himachal forests ablaze this summer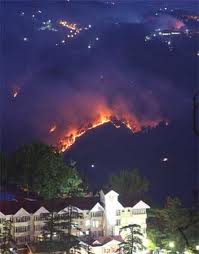 Shimla : It has been the driest May in over two decades in Himachal Pradesh sparking fires in forests across the hill state .
Forests in Shimla , Solan, Sirmaur , Mandi , Bilaspur , Una and Kangra are on fire for the past many days destroying rich forest wealth worth crores .
Even the state capital Shimla is hazy with smoke emanating from many blazing forest fires surrounding the hill station .
Sources told Sun Post the state forest department and environment agencies have once again been slow to react and take measures to put out these fires .
It is also becoming clear that many of these fires like always are started mostly by greedy villagers wanting to encroach on forest and grasslands owned by the government .
In an election year villagers think the authorities will do little to stop them from encroaching on precious forest land .
Environment agencies have highlighted many times the regular illegal practice of taking over of government owned forests and grasslands and converting them into farmland .
The largely corrupt state forest department has been looking the other way even as top officials in the state capital Shimla tell the media about appointing a nodal officer and a task force involving forest and village bodies to put out these fires .
Reports suggest they have by and large failed to douse the flames . With no sign of rain to come in the next few days it remains to be seen how much more damage will take place before the wet weather ultimately douses these flames .