Himachal's Chitkul village : no power for 2 weeks
Shimla : First battered by heavy summer snowfall and rain and now Kinnaur's flood ravaged Chitkul village in the Sangla valley is plunged into darkness for almost two weeks now.
 Residents of this village say the state electricity board hasn't even started restoring the power cables connecting this remote village on the border with Tibet .
 HPSEB's SDO Narendra Verma has been quoted as saying that 12 poles and all power cables have been knocked down by huge landslides between Rakcham and Chitkul among other places .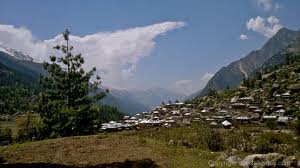 Locals also say a lot of the HPSEB staff among other government employees have been deputed for the Mandi Lok Sabha seat(which includes Kinnaur) polls have delayed the electricity restoration work .
 Chitkul's standing crops including apple orchards like most of Kinnaur have suffered widespread damage due to the unusually heavy rainfall earlier this month .
 Chitkul's population is around 600 and is located at 11,320 feet above sea level . Even though it is hard to reach it remains a popular summer tourist destination particularly with foreigners .
The closeby Nathpa Jhakri project , the country's largest hydro electric project remains shutdown due to heavy silt in the Sutlej river .
Power surplus Himachal Pradesh achieved 100 per cent electricification way back in 1989 .