Himachal rain losses : Virbhadra asks PM Rs 1000 crore aid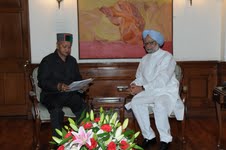 Shimla : The Himachal Pradesh government on Friday submitted details of its monsoon losses to prime minister Manmohan Singh and demanded a Rs 1000 crore package as immediate relief to the disaster hit hill state.

 State chief minister Virbhadra Singh told the prime minister that flash floods earlier this month had caused an estimated loss of Rs 2575 crore to public and private property .
 The loss was mainly in tribal Kinnaur district which received an unprecedented 1229 per cent more rainfall than normal in June.
 Between June 15 and June 17 at least 24 people lost their lives in the district . Life is far from normal in Kinnaur with most roads blocked and power lines disrupted .
 Virbhadra told the prime minister till date 1239 people have been evacuated from Kinnaur including foreign nationals . The state government has released Rs 28 crore as immediate relief .
 He said around 1000 houses have been damaged . Also 2120 roads have been badly affected by the heavy rains .
 Around 50,000 hectares of agriculture  and horticulture land has been affected causing a loss of Rs 600 crore.
 Virbhadra further told the prime minister the heavy rains had killed around 10,000 animals causing huge losses to farmers and shepherds .