Goa gets high-end tourists , Himachal only riff-raff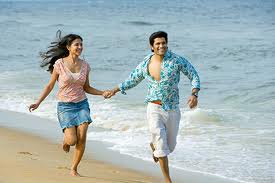 Shimla : Will Himachal Pradesh learn from tiny Goa on ways to attract high-end foreign and domestic tourists , or remain happy with mostly low-end tourists .
 Even though the beach state attracts far less foreign and domestic tourists than Himachal Pradesh , Goa earns much more revenue than the hill state .
 While tourism contributes barely 8 per cent of Himachal's GDP , it makes up for a whopping one third of Goa's GDP.
 Talking to the media and travel & tourism agents in Shimla Tuesday senior Goa government tourism officials said Goa is now trying to tell the world that it has much more to offer to the world other than its world famous beaches .
 "We are also trying to promote Goa as an all the year destination and promote our rivers , lakes , historical and wildlife sites"said Gaja Nand Mahle , Information officer dept of tourism Goa government .
 "Last year 996 chartered flights landed in Goa , this is how half of the foreign tourists come to Goa ," Mahle said .
 Travel agents here not wishing to be named said since Himachal doesn't have a large airport where chartered flights can land .
 They said the state government has failed to promote air services in the three airports in the state .But an even bigger failure they said was the proposed helicopter taxi service despite so much noise for years .
 The proposed heli-taxi service plans to take high-end tourists to lesser known scenic and inaccessible areas of the state by using dozens of existing helipads across the state.
 But till date no such service has been provided , the travel agents complained .
 They said the Himachal tourism department seems to happy with budget tourists and also by wasting money and time in promoting absurd ideas like 'Ghar ki Kahani' and 'Har Gaon ki Kahani' which have been total failures over the years .