Himachal univ VC is a BJP agent : CPM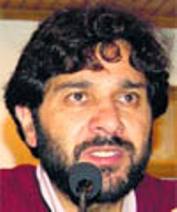 Shimla : The much publicized foundation day ongoing celebrations of the Himachal Pradesh university have taken an entirely saffron colour alleges the opposition CPM and the Congress .
Senior CPM leader Tikender Panwar on Wednesday bitterly criticised vice chancellor ADN Bajpai asking for his immediate censuring .
"The CPM has asked the election commission of India to at once take possession of the audio visual record (before it is destroyed) and thoroughly scan it ," said Panwar .
"The apprehensions of many stand vindicated as we had asked the election commission to appoint an observor for the foundation day function with fears of full-fledged political campaign ahead of the assembly polls in the state," said Panwar .
"The entire event was organised with the help of the BJP . Instead of inviting people with academic excellence , nearly all the invitees were linked with the BJP or the RSS," he alleged .
The university stage was used to put out slogans like , "Narender Modi will be the next prime minister of India , Shivraj Chauhan will continue Madhya Pradesh's chief minister ," he said .
"The loudest and most repeated slogans by a group close to the VC were "mission repeat" in favour of the ruling Dhumal led BJP government in Himachal which goes to the polls later this year," Panwar alleged .
Congress state general secretary Kuldeep Rathore has also criticised the VC for playing into the hands of the BJP and blatantly allowing the university stage for promoting the saffron party  .