A Passage to India , the last epic by David Lean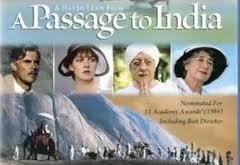 V S Naipaul may have dismissed E M Forster for not understanding Indian culture and roaming India only in search of seducing cute garden boys .
But many others consider Forster's A Passage to India as one of the finest books written during the colourful Raj era.
And nobody better than David Lean could have done justice by turning this book into a fine film in 1984 . It was also Lean's last film and the only one by him in 14 years .
At the time of the release one critic had hailed it as the most humane work by Lean .
Time magazine hailed it as a cover story , 'An old master's new triumph'.
But to me like all Lean films this too showed his immense talent for capturing spectacular landscapes .
In the past he had  shown the world the grand Arabian landscape in Lawrence of Arabia (1962) , the Russian vast bleak and cold snow covered terrain in Dr Zhivago (1965 ).
And here we have India . In the backdrop of the Raj .
We have a mosque and the Ganges flowing by in moon light , an elephant ride to the old Marabar caves (shot in Bihar and the Deccan) .
Great long shots of giant rocks and the lumbering elephant . Naturally Dr Aziz Ahmed(Victor Banerjee) begins to feel like a Mughal emperor !
Then we have the images of paradise on earth—– Kashmir , Srinagar , the Dal Lake and the great Himalayas . No wonder every major hindi film in the 1960s was shot here .
A Passage to India also has memorable characters , Dr Aziz ,  Mrs Moore (Peggy Ashcroft ) , at 77 she became the oldest actor to win an academy award .
Then we have the typical Indian favourite Englishman the tolerant Richard Fielding who advocate Hamidullah (Saeed Jaffrey) describes as on our side(India's side) .Then we have a cameo by Roshan Seth as advocate Amrit Rao .
Who can forget Alec Guinness as Prof Godbole the eccentric , mysterious and blue eyed brahmin with an almost real Indian accent .
Remember Lean had cast him in six films including as Prince Faisal in Lawrence of Arabia and as Yevgraf in Dr Zhivago .
I wonder why David Lean abandoned his proposed film on Gandhi . Who knows in the hands of Lean it might have even been better than Richard Attenborough's Gandhi , so talented was he !