New Shimla road in a mess and nobody is bothered !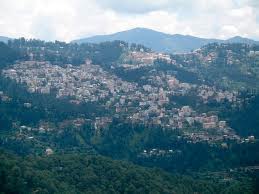 Shimla : For a change, after many years the by-pass road passing through Khalini , BCS and onwards is nice and smooth .
But the moment you take the New Shimla road below BCS the bumpy ride starts .
New Shimla is home to Shimla's most affluent people but the road here is worse than a village road .
Not only is it narrow , it is cracked and broken at many places .
And when it rains there isn't even a proper drainage system , so the water collects and stands . Walkers are often awash with muddy water splashed by speeding cars .
The road will only worsen with the onset of the monsoon .
It hasn't been repaired since the last couple of years .
Residents say only mud and a few stones were filled into the holes last winter , that is all .
Another complaint is that only one narrow road connects this huge residential area . And the road ends at a dead end . No efforts have been made to connect this road to the phase three area of New Shimla .
I have seen the original map of New Shimla . The VIPs sitting in the 1980s and 1990s broke all rules and regulations and converted proposed parks and open areas into housing plots to accommodate many top government officials who were close to respective governments .
Somebody should move an RTI and dig out the old records to see who all broke the law and benefited by these violations , the people here have a right to know .
Others said the PWD executive engineer , assistant engineer and the junior engineer should be hauled up and asked to explain .
Residents complain the newly elected New Shimla councillor promised a lot and threw a big party when he won this summer, ever since though he has gone into a slumber .
Not only does the road need to be repaired the street lights at many places are not working for weeks in this thickly populated area .
But the most surprising thing is that New Shimla has no proper residents association to look into the civic amenities and other problems with the authorities .