Himachal seizes 81 quintils of rare aphrodisiac herb 'naag chhatri' in 3 years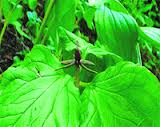 Shimla : Due to over exploitation of 'naag chhatri' by locals who enjoy traditional forest rights the Himachal Pradesh government has in the last three years made attempts to check this abuse and has confiscated over 81 quintils of herb in the hill state .
"The forest and police departments have together seized 81.17 quintils of 'naag chhatri' during the last three years," state forest minister Thakur Singh Bharmouri told the state assembly here Friday .
He said keeping in mind the local rights of the locals there is no royalty on the collection of 'naag chhatri' or any other herb . But Rs 25 per kg is charged as export fee if small quantities of the herb is sold out of the village area .
"Prices have shot up recently currently a kilo of naag chhatri fetches Rs 2500 to Rs 3000 per kg,"Bharmouri said.
While there is no ban on the collection of the 'naag chhatri' by locals due to traditional settlement rights but it cannot be transported out of the state .
The raids by the forest and police staff have been carried out where people were caught trying to smuggle this rare herb outside the state .
Besides being used as an aphrodisiac it is used for other medicinal purposes in ayurveda and chinese medicine .
Naag chhatri is grown in Nepal and some other Himalayan areas .