45 sheep drowned in Himachal's Pong lake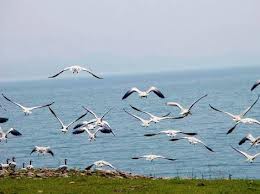 Shimla : Stray dogs attacked a flock of sheep grazing at the edge of the Pong dam drowning at least 45 of them in the lake in Himachal Pradesh's scenic Kangra valley  , police said .
Gaddi shephereds said a pack of stray dogs suddenly arrived at the spot and pounced on the grazing animals creating panic among the 265 sheep . All the petrified sheep jumped into the deep lake
By late evening many of the animals swam to safety but around 45 drowned in the reservoir Thursday .
Local media reports said the sheep owned by four Gaddi tribe shepherds in the high mountians of Chamba district .
A post-mortem of the animals confirmed that the animals had died due to drowning .
Local government officials have been quoted as saying that the shepherds would be compensated for the loss .
As spring sets into the hills shepherds begin to move their livestock higher up from the Himalayan foothills where they spend the winter .