Himachal PAT teachers salaries Rs 11,000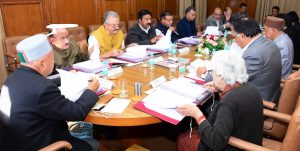 Shimla:The Himachal government on Monday raised the honorarium of the Primary Assistant Teachers (PAT) in the state elementary education schools from Rs 8900 to Rs 11,000 per month.
There are 3240 PAT teachers in the state. Providing services against vacant posts of JBT teachers.
The Cabinet also decided to allot 95 small hydel projects upto 5 MW with overall capacity of 197 MW to both locals and outsiders.
It was decided to allot 74 projects of 126 MW to Himachalis and 21 projects of 76 MW to non-Himachalis.
If the capacity of the allotted projects is enhanced above 5 MW, all the charges based as per policy applied for projects above 5 MW including additional free power royalty to be paid by the applicant afresh on whole capacity of project.
The Cabinet gave its approval for felling,removal,lopping of dangerous trees in the limits of Municipal Corporation, Shimla and Dharamsala.