2 skeletons found on Himachal's Inderhaar Pass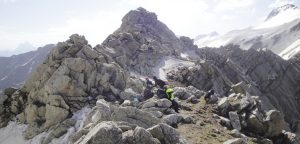 Shimla:With the finding of two skeletons on the 4342 m high Inderhaar pass in Himachal Pradesh there is speculation that these could be of two French nationals who went missing over three years ago.
"Trekkers spotted the skelton remains on the Inderhaar Pass and informed the police.We have sent them for forensic analysis. But it is difficult to confirm whose skeletons these are," said Sanjeev Gandhi S P Kangra.
Local newspaper reports are saying(speculating) that these skeletons could be of French nationals Valentin Marcel Gorges 20 and Francis Xavier Camille 21 who are missing since August 2013.
Both were part of a 32 member expedition trekking in the high mountains.The team had gone trekking on August 20, 2013.
A few days later the group returned to Dharamsala except for the two young French nationals who instead chose to trek further to scale the Moon Peak near the Inderhaar Pass.Ever since the two are missing.
A search operation was launched immediately by the National Disater Response Force(NDRF) but returned empty handed.
Ten months later a rucksack with a camera, binoculars, two mobile phones, earphones were found in a glacial stream close to the Moon Peak.
Another search operation was launched but that too returned empty handed in June 2014.