Himachal nod to three industrial units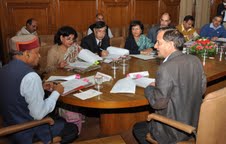 Shimla : Permission was given Tuesday to three industrial proposals to set up projects involving an investment of Rs 215 crore in the hill state , a top official said .
This also includes a new proposal of Green Valley Corn Kraft India Ltd for putting up a manufacturing unit of Starch and Liquid Glucose .
Two units of Havellls India Ltd and Ambuja Cements Ltd have also been given permission to expand their projects .
This decision was taken by the state government here Tuesday .These three units will have a capacity to generate 887 people jobs .
Chairing the meeting state chief minister P.K.Dhumal said the state had been selective in granting approval to industrial proposals which were environment friendly , used local raw material and provided jobs to locals .
He said the state government had been providing uninterrupted cheap electricity .