No Miss Tibet contest this year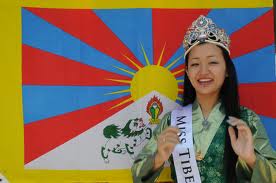 Shimla : Anguished by Tibetans setting themselves on fire in Tibet ,  Tibetan refugees in India have decided not to organise the controversial Miss Tibet contest this year .
"With the lives of many Tibetans at stake, the very grim current circumstances leaves no room for pageantry and celebrations ," said Lobsang Wangyal the chief organiser of the event Wednesday .
"This is my way to pay homage to those who have died for Tibetan cause, and stand in solidarity with all the Tibetans in Tibet ," Wangayal told Sun Post  .
According to reports in the past two years 34 Tibetans have set themselves on fire in protest against Chinese rule in Tibet .
Wangyal created a stir in conservative Tibetan society by organising the Miss Tibet contest for the first time in 2002 .
Even though a large section of Tibetan elders are against such an event saying exposing the body is against the traditional culture of Tibetans  .
But organisers of the event say younger Tibetans most of whom are born in India and are partly westernised were not against this beauty contest .
The organisers say the Misss Tibet contest is a good way to promote the Tibetan cause at the international level .
During the past decade the Chinese have protested several times against Ms Tibet beauties taking part in international beauty contests .