Himachal no to SC & ST promotion quotas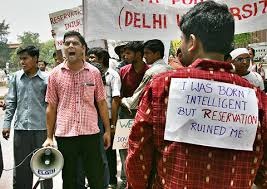 In a significant move the Himachal Pradesh government has decided not to implement the enabling provisions of article 16(4A) of the constitution which provides for reservations for scheduled castes and scheduled tribes in promotions.
Since a quarter of the state's population is SC and ST this decision is seen as bold by the state government .
To meet escalation in bitumen prices for PMGSY projects it has been decided to hike bitumen by 10 per cent. This will be borne by the contractor. If it is higher the concerned government department will bear the cost .
The cabinet decided to cancel the projects of seven power companies for failure to execute projects in time .
These are Sant hydro which had two projects.Gehra hydro power,Ajay Energy, National Engineers & Contarctors, Chattarkhand hydro and Modi power.
State run HIMURJA will execute three small projects , Tauhuk. Lower Sumej and Kareri.