Diwali gift for HRTC staff : 8 per cent DA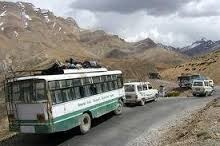 Shimla : Staff and pensioners of the Himachal Roadways Transport Corporation (HRTC) will receive 8 per cent dearness allowance .
The instalment will be from Jan 2013 and in cash till Sept this year . From Oct it will be given with salary .
"This will put an additional burden of Rs 10 crore on HRTC .
Bali blamed the previous BJP government for mismanaging HRTC and causing a loss of Rs 382 crore .
HRTC is in the process of strengthening its bus fleet by adding around 1100 buses and retiring 300 old buses .